A Note From Daylin
I hope you all are staying safe & healthy. I know that these have been difficult times, but it's because of your selflessness and commitment to staying at home that we've seen a decrease in daily new reported cases. I know that the Governor's stay-at-home orders have caused great hardship and distress and I'm looking forward to having further thoughtful discussion about how to safely and responsibly re-open our community as soon as possible while still protecting our most vulnerable community members.
Despite my office being physically closed, my staff and I have been working harder than ever to assist our constituents. To date, there have been nearly 2 million Pennsylvanians that have filed for regular unemployment compensation, and an additional 136,000 have filed for Pandemic Unemployment Assistance. Regretfully, our system was not equipped for the demand that we're seeing and my constituents have experienced a myriad of issues related to filing their claims. My office is always here to help - we have legislative liaisons with whom we work to resolve these matters. If you or someone you know is still having problems, please contact us at senatorleach@pasenate.com or 610.768.4200.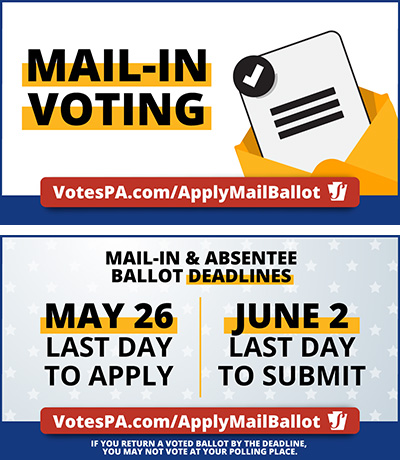 As a reminder, Pennsylvania has postponed the Primary Election date to June 2. I've been urging all Pennsylvania voters to vote in the safety of their own homes by voting by mail. You can apply to receive your mail-in ballot by going to VotesPA.com and filling out a form or you can contact my office and we will gladly mail you a paper application. Voters have until May 26 to apply.
Please consider reading the rest of our e-newsletter for more updates, upcoming events and other helpful info. I hope you and your family are staying healthy and safe. We will all get through this together.
Stay safe!
Daylin
Daylin's Telephone Town Hall | Coronavirus Update
Join me at 6:10 pm on Thursday, May 28 for a live Telephone Town Hall. I'll be providing an update on the coronavirus, addressing state and community mitigation responses, as well as make myself available for any questions you might have. You can register here.
Delaware County Teen Town Hall | Friday, May 22
I'm looking forward to joining Congresswoman Mary Gay Scanlon along with other state lawmakers on Friday, May 22 to hear from Delaware County students experiencing firsthand the impact of COVID-19 on their education. Parents and students interested in registering for the event can do so here.
The Latest News
After 10 weeks, downward trend in positive coronavirus cases noted in Montco
The Times Herald
As week 10 of the coronavirus outbreak in Montgomery County came to a close on Friday, officials reported 13 more deaths from the virus but said they're noticing a downward trend in the number of those testing positive for the virus at community-based testing sites.

Montco small businesses seek relief grants amid coronavirus pandemic
The Times Herald
Nearly 3,000 Montgomery County small businesses impacted by the COVID-19 pandemic have applied for part of the $5 million in grant funds being made available under the second round of the MontcoStrong Small Business Grant Program. The 2,900 requests, submitted between 10 a.m. and 6 p.m. on Wednesday, totaled $29.3 million, according to county Commissioner Vice Chairman Kenneth E. Lawrence Jr.

Delaware County yearns to be free of coronavirus pandemic
Daily Times
As Gov. Tom Wolf announced another 12 counties would move to a less restrictive "yellow" status by the end of the week, indicating a reduction in active COVID-19 cases, some in Delaware County are wondering when the same will happen here.

SEPTA back to regular schedule today
The Times Herald
In an effort to improve conditions for essential travelers and employees during the COVID-19 crisis, and prepare for the region's reopening, SEPTA will return to regular schedules on most Transit services starting May 17. This includes resuming service on all bus and trolley routes with front-door boarding and fare payment, and restoring regular weekday and weekend frequencies on the Market-Frankford, Broad Street and Norristown High Speed Lines.

MCCC Foundation's micro-campaign raises more than $61K for student emergency fund
The Times Herald
The COVID-19 pandemic created unexpected financial difficulties for many people across the country. That includes Montgomery County Community College students who have suddenly had to adjust to taking classes online while struggling with a loss of income, childcare needs and health concerns. In response to this extraordinary situation, Montgomery County Community College Foundation launched a micro-campaign reaching out to alumni, donors, employees and community members to raise money for the College's Student Emergency Fund. Within a month, the Foundation raised more than $61,500 in gifts and pledges.
For small businesses, survival may hinge on closing streets
CNN Business
Tampa's government has launched a two-week test to close some streets to car traffic so that restaurants can expand seating.
Moderna's COVID-19 vaccine shows positive results, moves to larger studies
NBC News
Early results from a phase 1 trial showed the vaccine was safe and prompted an immune response in humans.
Montgomery County sent out thousands of Pennsylvania absentee ballots with flawed instructions
Philadelphia Inquirer
The mail ballots Montgomery County sent to thousands of voters came with clear instructions for how to fill them out. But those instructions were wrong.
Pennsylvania Launches Program for People who Exhaust their Unemployment Compensation Benefits
On Sunday, May 17, the Pennsylvania Department of Labor & Industry announced the launch of Pennsylvania's Pandemic Emergency Unemployment Compensation (PEUC) program to provide an additional 13 weeks of benefits to people who exhaust their regular unemployment compensation (UC). PEUC is included in the new federal unemployment compensation benefits provided by the federal Coronavirus Aid, Relief, and Economic Security (CARES) Act.

You are eligible for PEUC if you:
Are unemployed between March 29 through December 26, 2020;
Have exhausted your regular state or federal benefits with week ending July 6, 2019 or later;
Are currently not eligible for state or federal unemployment benefits; and
Are able and available to work and actively seeking work, except for COVID-19-related reasons including illness, quarantine, or "stay at home" orders.
How to Receive PEUC
​If you have an open UC claim but exhausted all of your benefits, the 13 additional weeks will automatically be added to your existing claim. Log in this week to file biweekly claims for prior weeks, back through the week ending April 4 (if applicable).
If your benefit year has expired then you must submit an application online.
If you don't have access to computers or the internet, you can have a loved one or friend print the paper application for you to complete and submit via mail. We are also in the process of mailing paper copies of the application to individuals who might need it.
Biweekly claims and payments work the same way as for regular UC benefits.
PEUC Weekly Benefit Amount:
Your PEUC weekly benefit amount is the same as your regular UC weekly benefit rate.
Your weekly benefit rate is based on your reported earnings during the base year (the first four of the last five completed quarters). You must also have over 18 credit weeks (weeks during which you earned $116 or more) in your base year to be eligible for UC.
Extra $600 on PEUC:
You will receive an additional $600 per week from the federal Pandemic Unemployment Compensation (FPUC) program. Anyone collecting any type of UC, including PEUC, will receive the extra $600 per week in addition to your weekly benefits as calculated.
FPUC payments began the week ending April 4, 2020 and will end July 25, 2020. These payments will be backdated for eligible individuals and paid in one lump sum.
You will receive the extra $600 FPUC payments the week after your PEUC payments.
PECO Extends Policies to Help Their Customers
To offer continued assistance to customers impacted by the COVID-19 pandemic, PECO is extending its support policies, which include suspending service disconnections, waiving new late fees, and reconnecting customers who were previously disconnected, through at least July 1.The company is also highlighting financial resources, including flexible bill pay options and the Gift of Energy program, which allows customers to provide support to those struggling financially.
The company's COVID-19 policies, designed to help ensure all customers have access to safe and reliable electric service during this critical time, launched in mid-March with PECO's announcement to suspend service disconnections and waive new late payment charges for all of its customers. The commitment was extended shortly thereafter to reconnect customers who previously had their power disconnected.
Customers who are challenged to pay their energy bill should contact PECO customer care as soon as possible at 1-800-494-4000. PECO will work closely with customers to waive late payment fees, avoid having their service shut off, discuss reconnections, and determine eligibility for assistance programs. PECO representatives can also discuss payment options, like budget billing, which averages payments over a 12-month period to help customers manage their monthly energy bill, or flexible payment arrangements that offer individually tailored payment installment plans.
Throughout the year, PECO offers many other programs to help customers manage their energy costs and save money. Existing financial assistance programs can be found at peco.com/help
New LIHEAP Program Opens May 18th
Starting Monday, May 18, the PA Department of Human Services will open a new LIHEAP program, the "LIHEAP Recovery Crisis Program." The program will provide a supplemental payment to households that received a LIHEAP crisis grant during the 2019-20 LIHEAP season. The maximum award is $800. The program will run through 31 August or until funding expires. To qualify, Pennsylvanians must:
Have notification that their utility service will be shut off in the next 60 days;
Have their main or secondary energy source completely shut-off;
Be in danger of running out of fuel in 15 days, or have no fuel; or
Owe enough funds to constitute a service termination if the Public Utility Commission's temporary moratorium on terminations were not in effect.
DHS will release more information soon. Please follow me for more updates.
Federal Funding Available for COVID-19 Testing and Treatment for Uninsured Patients
Governor Tom Wolf announced that through the federal stimulus bills providers of COVID-19 testing and treatment services will be able to be reimbursed for providing those services to uninsured patients.
As part of the Family First Coronavirus Relief Act and CARES Act, the U.S. Department of Health and Human Services will provide reimbursement to health care providers generally at Medicare rates for testing uninsured individuals for COVID-19 and treating uninsured individuals with a COVID-19 diagnosis. Payments for uninsured individuals will be administered through the Health Resources & Services Administration (HRSA).
HRSA is accepting claims as of May 6 and will accept claims for services dating back to February 4, 2020. Providers should access the HRSA website at https://coviduninsuredclaim.linkhealth.com/ to learn what services are covered, determine who is eligible, submit claims, and find more information.
Check the Status of your Mail-In Election Ballot
With just some basic information, you can check the status of your mail-in ballot using this website: https://www.pavoterservices.pa.gov/Pages/BallotTracking.aspx
If you haven't yet applied for your mail-in ballot application, please let this serve as a reminder to apply for your mail-in ballot application by no later than May 26, 2020!
Haverford Township Free Library Virtual Programs
In normal times—remember them?—libraries are a place where people come together.
We are far from normal times, and although the Haverford Free Library is physically closed, the library staff has managed to offer many of their services through the internet via Facebook, YouTube, and Zoom.
For example, the Youth Services Department is currently hosting 24 programs per week which includes live and pre-recorded story times, book chats, art, STEM, and gaming.
Their research staff has also created virtual content which aims to educate and inform patrons with programs such as Covid Check-In and Tech Time with Katherine. They offer a Reading with Reference Program, Mindfulness Mondays; a story hour for adults, Zentangle for Beginners, Family Craft Nights and Quarantine Coffeehouse. One of their most popular programs, Kick 'in Cooking in Quarantine, actually has its own Facebook page, in which patrons can connect online, share recipes and find end runs around ingredient shortages.
For more information, please visit https://haverfordlibrary.org/virtual-programs-on-facebook-and-youtube/
COVID-19 Updates and Resources
Greater Philadelphia Coronavirus Helpline: 1 (800) 722-7112

If you become sick, call 1-877-PA-HEALTH (1-877-724-3258) and the doctor's office or emergency room before visiting.

Feel free to call our office at (610) 768-4200 or email me senatorleach@pasenate.com with any questions or concerns.